Chaff Cutter cum Pulverizer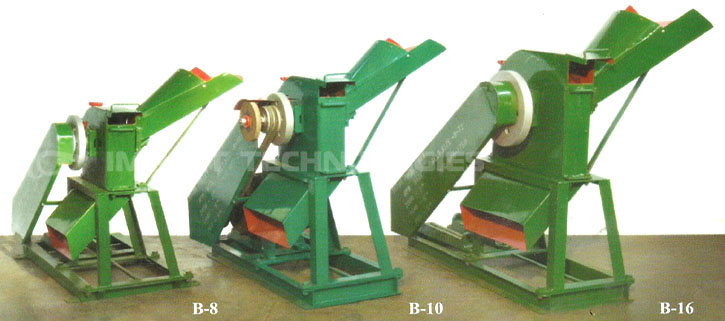 Features of our Chaff Cutters are:
Chaff cutter cum pulverizer

a. Three in one machine
b. Fodder Cutting
c. Serial Grinding
d. Agro Tool Sharpening

MS body with 5 mm thickness Plate with 90% MS.
Machine comes with No Gears, Maintenance free Machine only greasing to bearing.
Blades are made up of Special Alloy Steel, Sharpening blade once in 6 month, Both side useable / more durable.
Can install in any small space.
Re-sharpening to blades in easy.
Most of Parts are made up of mild steel.
Our Blades has two Cutting Edge, If one blunt, you can use another edge.
Quality ball bearings used.
Rotor is made up of steel.
Balanced Rotor used.
One time investment-long life assured.
Special Features
1. Quality Ball Bearings are used where necessary.
2. Cutting blades being thick are more durable.
3. Steel casting is used for blade rotor.
4. Gives three to four thousand cuts per minute.
5. Machine can be installed in a small space and can be driven with electric motor or small engine & TRACTOR-PTO.
Specifications
| Model | H.P. | Power | Feed System | Machin RPM | Approx output Per Hour | Application |
| --- | --- | --- | --- | --- | --- | --- |
| B-8 | 1.5 to 2 | Elec. Motor / Engine | Self Feed | 2250 | 400 Kg. | Upto 20 Cattles |
| B-10 | 3 to 5 | Elec. Motor / Engine | Self Feed | 2150 | 800 Kg. | Upto 40 Cattles |
| B-16 | 7.5 to 10 | Elec. Motor / Engine | Self Feed | 1750 | 1000 Kg. | Above 40 Cattles |
| B-16T | 18 & above | Tractor PTO | Self Feed | 1800 | 1200 Kg. | Above 40 Cattles |