MINI MILKING MACHINE CUM SPRAYER AND GENERATOR
We provide wide range of Milking Machines from Mini, Smart, and Single Bucket to 8 bucket, Mini Parlours and Herringbone parlors. Manufacturing plant is an ISO 9001:2015 Company.

This Mini Milking machine is designed to cater multiple applications in dairy farm. No dependency on electricity for milking your cattle. Clean your shed within few minutes with help of sprayer. Sprayer is having facility to adjust water pressure for cleaning cattle, cow shed as well as for cleaning car or bikes.

This Mini Milking Machine operates on Electricity, Petrol Engine as well as on UPS Invertors and having oil lubricated rotary vane type Vacuum pump. It is a belt driven, compact unit works on UPS/Inverter of 1.6 KVA with battery which is used in houses now days for backup. It is developed to provide automation solution for Milking at small cattle farms having 1-12 cattle. Piping can be done around 60-70 feet length either we can alternatively provide hose pipe equal length ,so piping is not mandatory for this Mini Milking machines.

Pulsator is 4 stroke aluminium types, Dual functional pulsator is designed and developed with adjustable setting for pulsation ratio for milking cow & buffalo. It is user friendly & portable machine. Simple and easy to use so that even ladies can do the milking without any dependency. Milk Claw is SS 304 Grade and maintenance free.

It approx. takes 5-6 minutes for milking of cow & buffalo, based on the breed of cattle.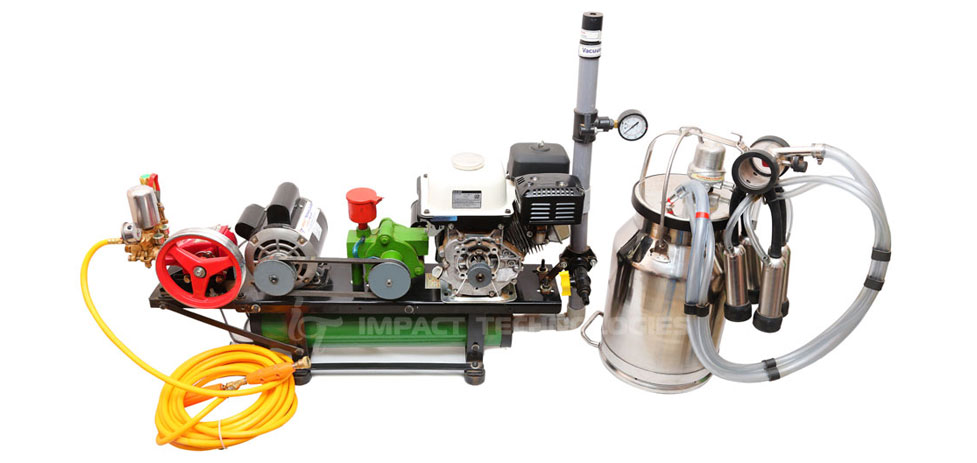 Features :
Light Weight, Portable and Easy to move.
Operates on UPS / Inverter / Engine.
Vacuum pump consumes just 6 ML oil per hour.
Indigenous Spares are easily available at affordable prices.
Milk Claw and Pulsator are washable and can be easily cleaned.
The machine also provides sprayer for Cattle & Farm Cleaning.
Technical Specifications :
Input Voltage 230V single phase
Motor 1/4 Hp or 0.25 Hp / 0.5 Hp (Thermally Protected)
Vacuum Pump 125 LPM
SS 304 Bucket - 20 Litre Capacity
SS 304 Milk Claw
Aluminium type 4 stroke pneumatic pulsator
Watch Video