Smart Milking Machine
Smart Milking Machines are fixed type, belt driven, electric cum engine operated machine with oil lubricated rotary vane type vacuum pump. Smart Milking Machine is developed considering the future growth plan of Mid-size cattle farms. Smart milking machine is developed to provide automation solution for milking to mid-size cattle farms having 1-20 cattle. It is a belt driven fixed type milking machine which is also known as Single Bucket Milking Machine.

Smart Machine is having an advantage to connect 1 extra bucket for milking which helps in fast milking of cattle if number of cattle are more and can work as Double Bucket Milking Machine. It is having the facility for mounting Engine (Petrol Engine of any make) to Machine which will reduce the operational challenges for day to day milking, in case of power failure in village. Just need to switch (Change) the belt of machine from motor to engine or vice versa for operation.

Smart Machine is simple and easy to use. Same Pulsator with dual functionality by adjusting pulsation ratio can be used for cow and buffalo for milking. Required Spares of machines are easily available in market near your area which reduces the dependency on company or service engineer.

Easy to maintain as customer can clean/wash at his end, also minor maintenance can be done by customer at his end which reduce the cost as well as dependency of service engineer. Piping can be done for approx. 60-100 feet so that we don't need to move machine to each cattle for milking. Approx. Petrol consumption for operating this Smart Machine will be around 500-600 ml per hour which means approx. Rs.45 Per hour .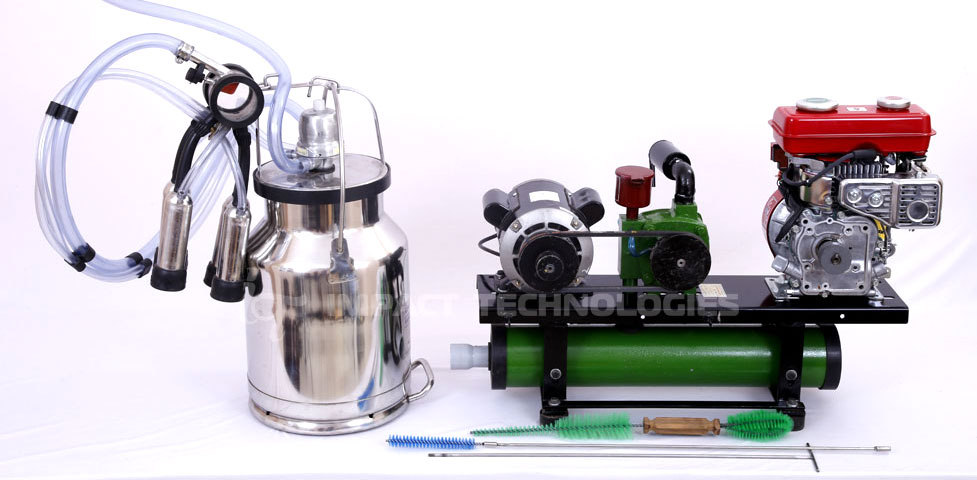 Features :
Operates on Petrol Engine in case of power failure.
Facility to switch the mode of operation of machine (Electricity or Petrol Engine).
Easy to upgrade it to Double Bucket Milking Machine.
Extra bucket can be added to the same machine without changing configuration of machine.
Indigenous Spares are easily available at affordable prices.
Easy Shifting from one place to another place.
Technical Specifications :
Input 230 Volts, Single Phase.
Thermally Protected Motor 0.5 Hp / 0.75 Hp / 1 Hp (Available in 3 models).
Oil Lubricated Vacuum Pump 250 LPM, consumes only 6ml oil per hour.
SS 304 Bucket - 20 Litre Capacity.
320 CC Milk claw made of SS 304.
Aluminium type 4 stroke pneumatic pulsator.
Watch Video