HEAVY DUTY MILKING MACHINE (4 Bucket Capacity)
This Heavy Duty Milking Machines are fixed type, belt driven, electric cum engine operated machine with oil lubricated rotary vane type vacuum pump. Heavy duty machine is developed considering the future growth plan of Mid to Large size cattle farms. If customer wants to increase his cattle up to 50 - 80, than he don't need to purchase the new machine but instead he can upgrade his existing machine and can continue milking of cattle by adding extra 2nd, 3rd and 4th bucket simultaneously.

This Heavy Duty Machine is having bigger vacuum tank along with high capacity of vacuum Pump which enable milking of 2 or 3 or 4 cattle at same time with our dual functional Pulsator by adjusting pulsation ratio for cow and buffalo milking. Since it is heavy duty machine, the piping can be done and extended till 150 feet in cow shed for ease of operation.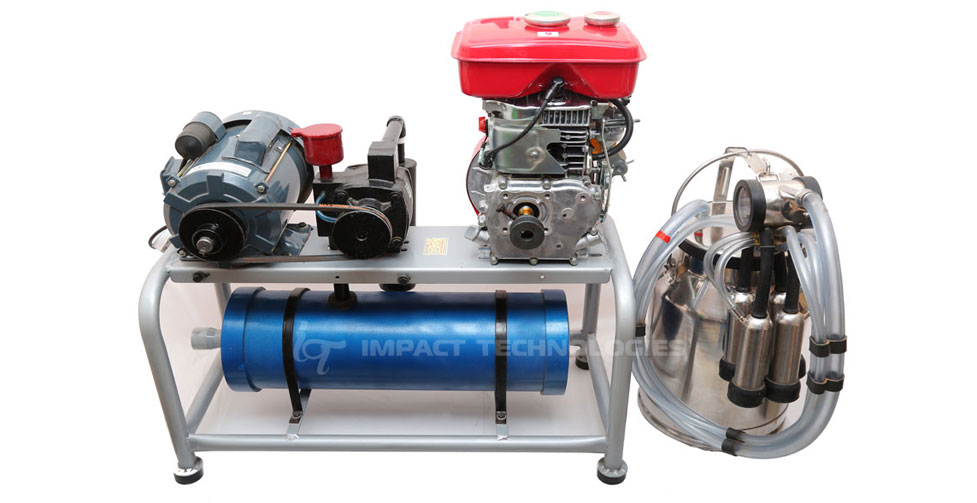 Features :
Easy to upgrade to 2 Bucket / 3 Bucket / 4 Bucket Milking System.
Operates on Petrol Engine in case of power failure.
Facility to switch the mode of operation of machine (Electricity or Petrol Engine).
Indigenous Spares are easily available at affordable prices.
Easy Shifting from one place to another place.
Technical Specifications :
Input 230 Volts, Single Phase.
Motor 1 Hp to 2 Hp (Thermally Protected).
Oil Lubricated Vacuum Pump 500 LPM, consumes only 6ml Hydraulic oil per hour.
SS 304 Bucket - 20 Litre Capacity.
320 CC Milk Claw made of SS 304 Grade.
Aluminium type 4 stroke pneumatic pulsator, oil free Technology.